Ladybug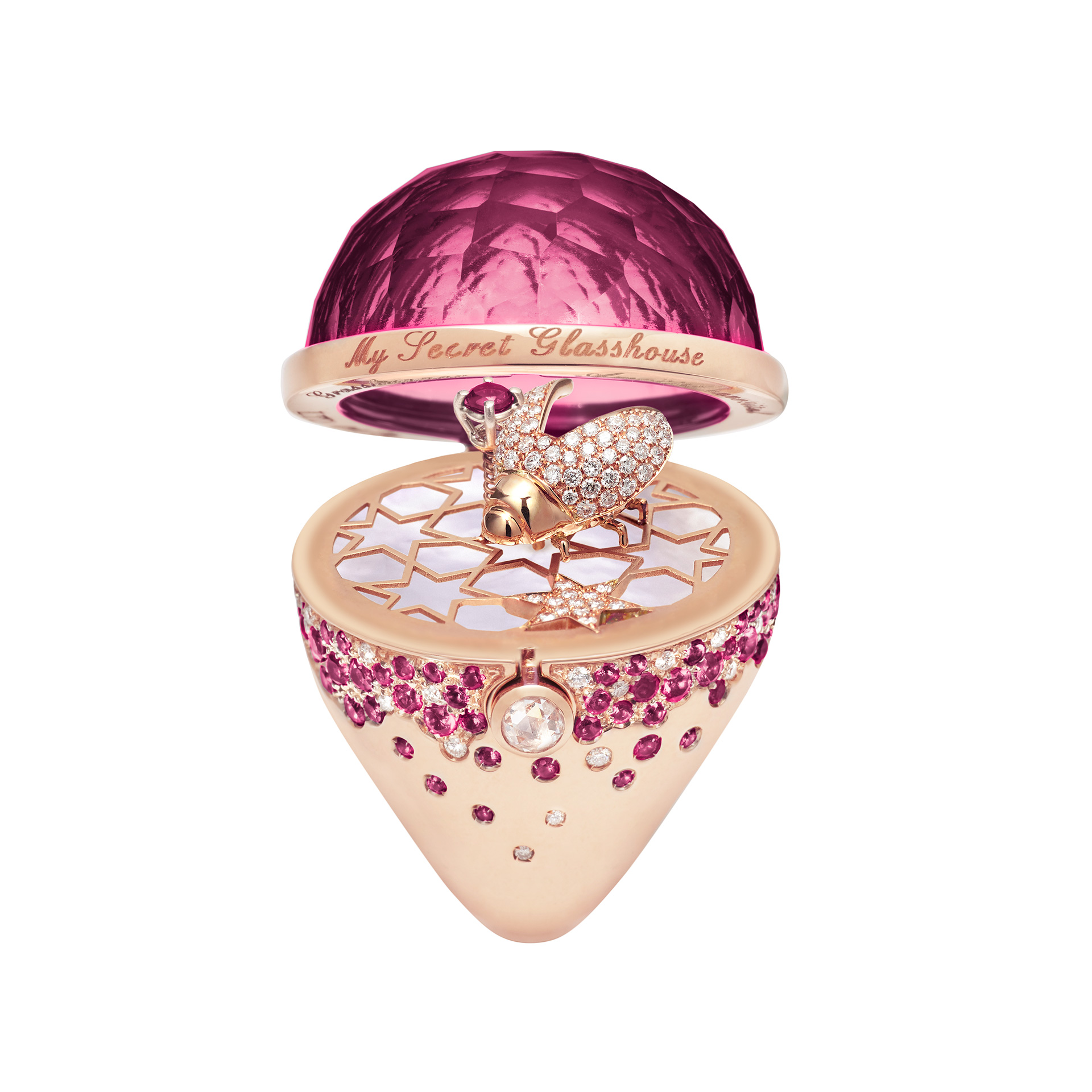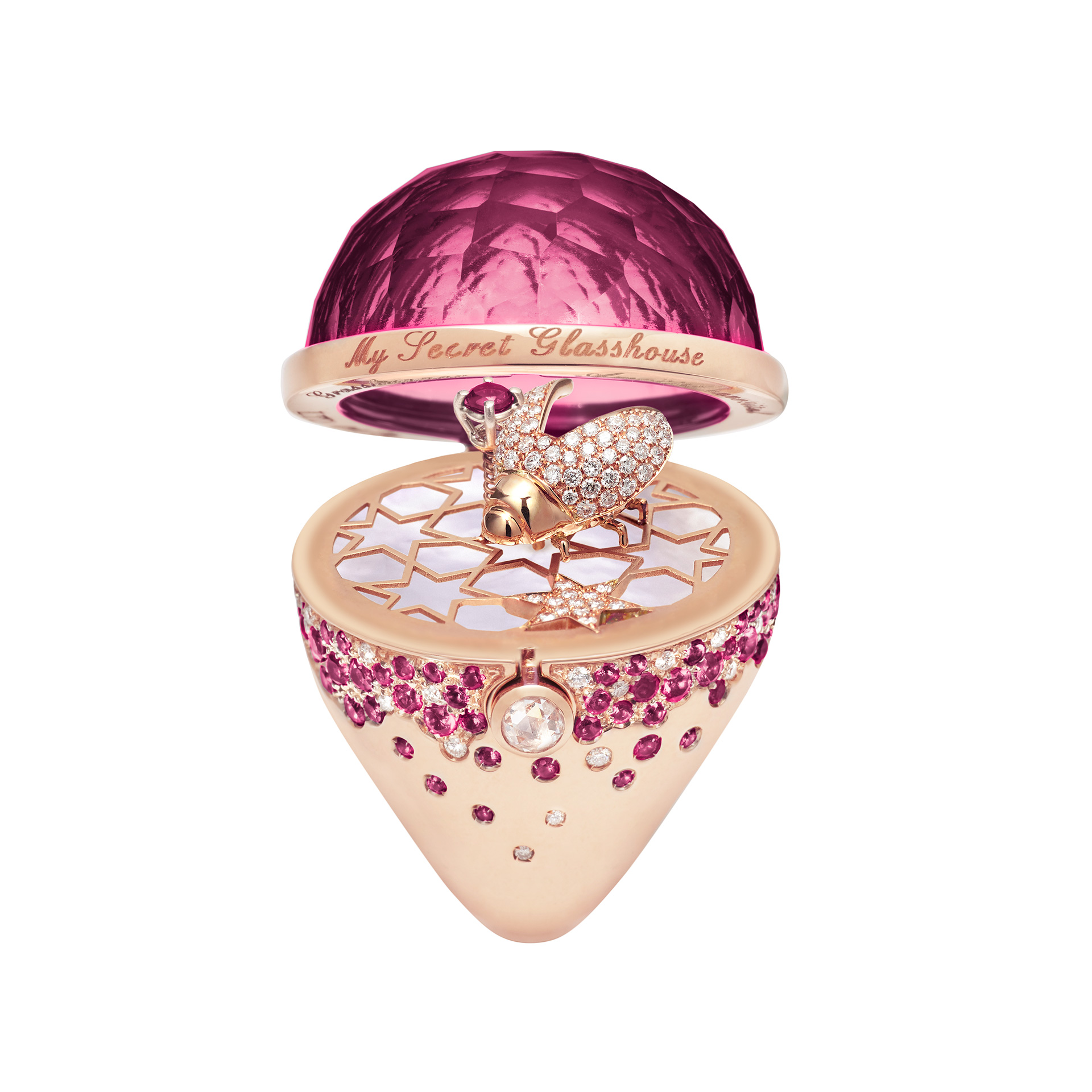 Ladybug
CLASSIC LINE Ø 28 mm
Ref: 28.RGP.138.PS-W.LDBG.W.WHITE
18k rose gold 53.22 gr, white diamonds 0.96 ct (G-VS1), pink sapphires 2.51 ct, pink sapphire nanosital glass 53.62 ct, flat-cut white mother of pearl
Inspiration:
My Secret Glasshouse Limited Edition Collection features a magic mechanism of openable precious sceneries inspired by the childish dreams of insects and nature. Press the white diamond and discover this pink sapphire treasure. The ladybug wishes you protection and good luck.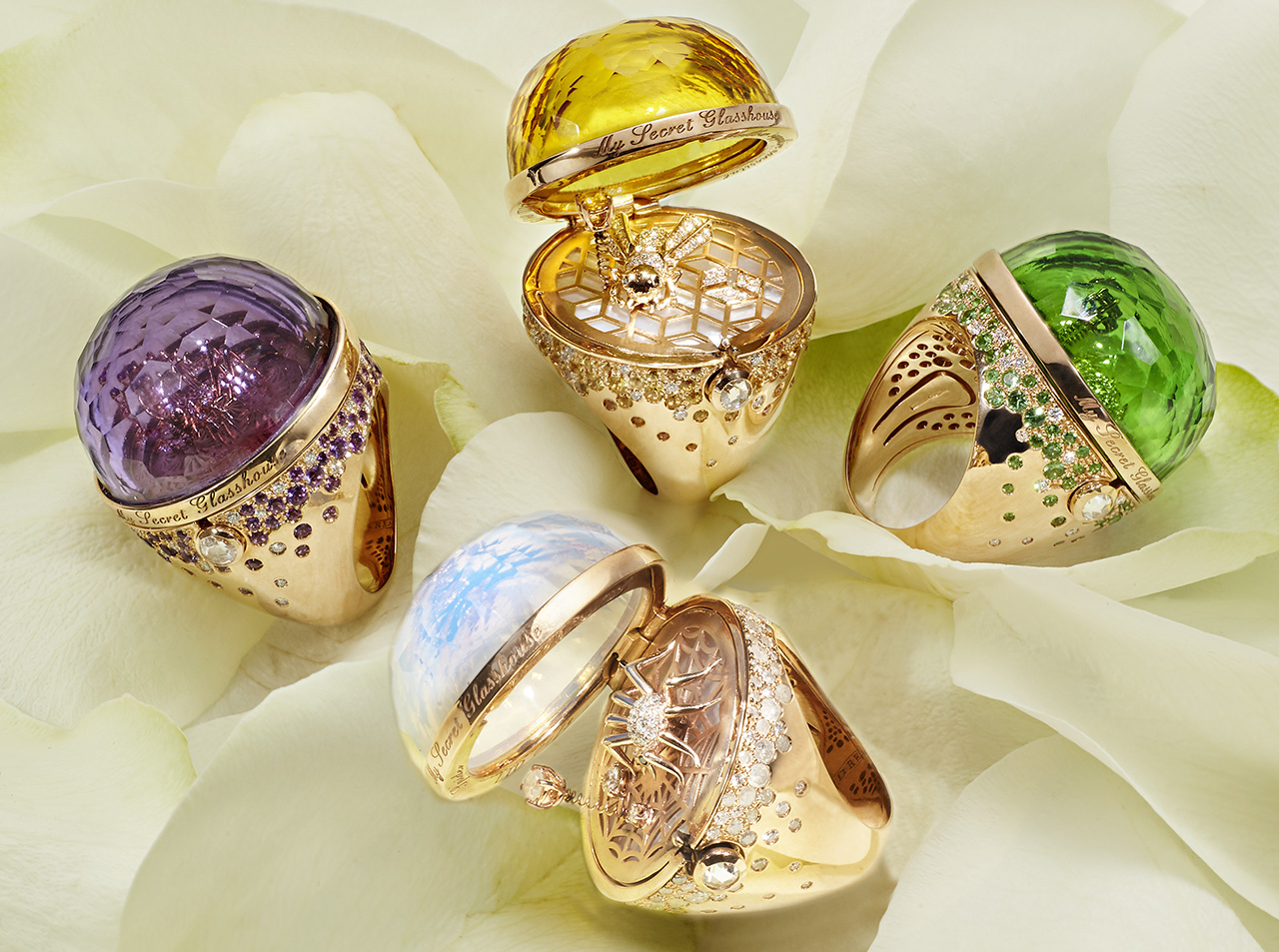 My Secret Glasshouse Limited Edition Collection (Full Gold)
Limited Edition Collection of 9 insects 3 pieces each. Discover the Dreamboule magic garden: 18K rose gold sceneries are hidden under the faceted-cut Nanosital glass dome. Push the white diamond button and the openable mechanism reveals childish dreams inspired by insects and nature.
CLASSIC LINE 28 MM
The line is characterized by a classic and timeless design. This ring consists of two main components: the ring and the glass. The ring is made of 18K rose gold and is embellished with 98 white diamonds and precious stones (1.59 carats). 
  BUBBLE LINE rings

CLASSIC LINE rings 

SUPERB LINE rings

TECHNICAL SPECS

Body Ring:
18k polished rose gold 48.77 gr – Set with pink sapphires 2.43 ct, white diamonds 0.26 ct (G-VS1), white diamond toumbouli-cut 0.19 ct (G-VS1)
Base:
Flat cut diameter 25mm – White mother of pearl
Scenery:
18k rose gold 4.45 gr – White diamonds 0.51 ct (G-VS1) – Pink sapphire 0.08 ct
Nanosital Glass:
Nanosital Glass 53.62 ct, faceted-cut, scratchproof, diameter 28mm
Total Weight:
18k rose gold 53.22 gr, white diamonds 0.96 ct (G-VS1), pink sapphires 2.51 ct, pink sapphire nanosital glass 53.62 ct, flat-cut white mother of pearl