Frog and Flowers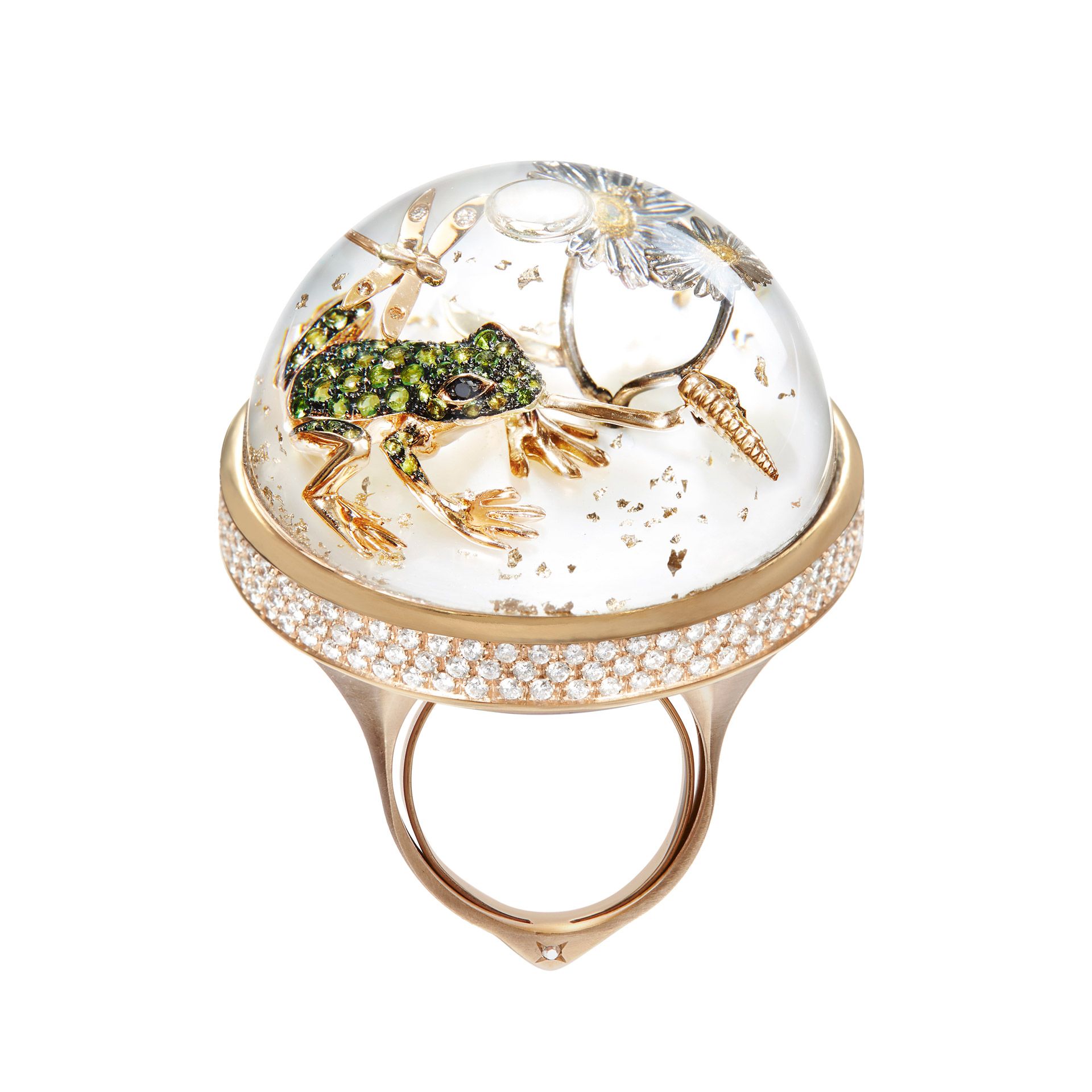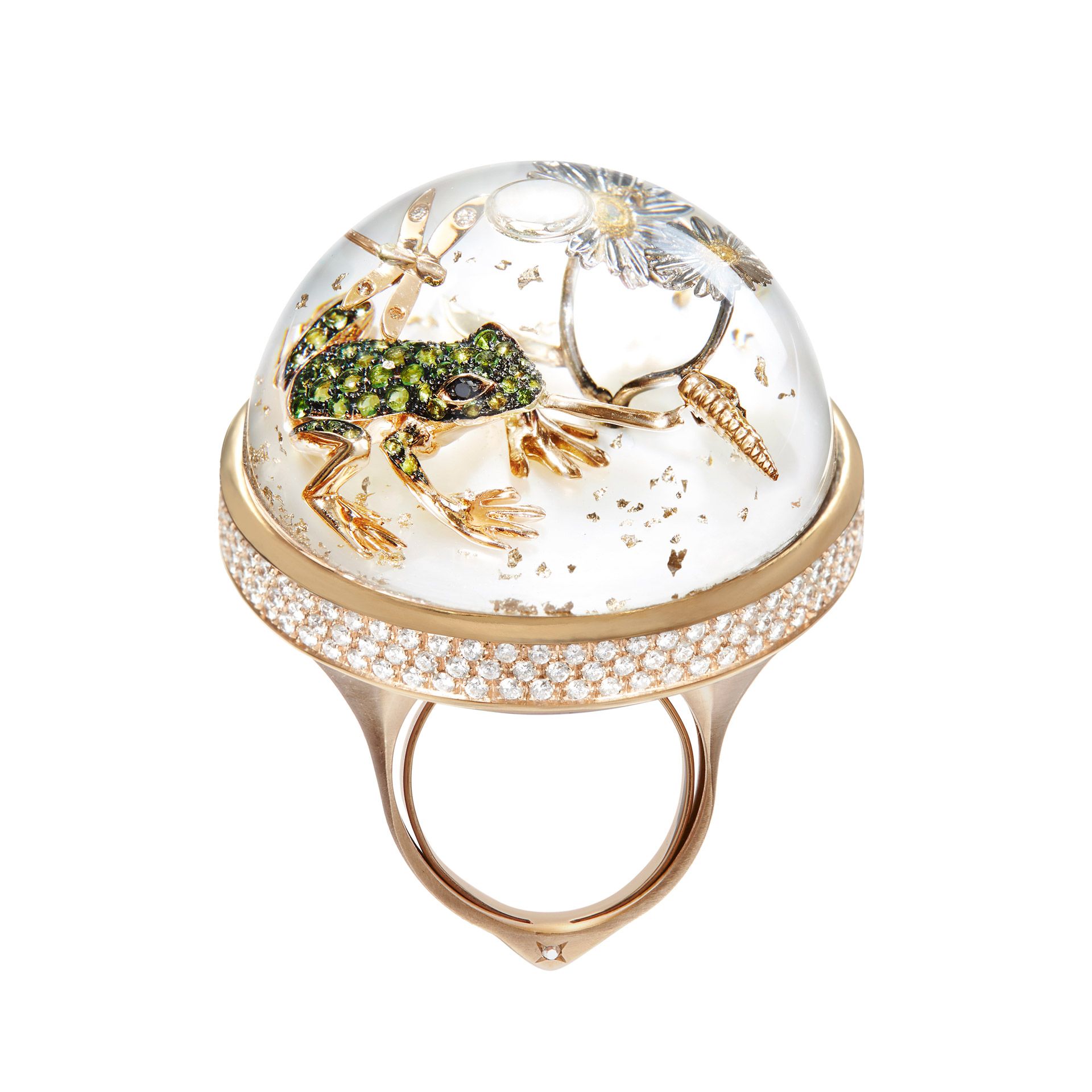 Frog and Flowers
SUPERB LINE Ø 36 mm
Ref: 36.RGS.185.C.FRFW.Z.WHITE
18K polished rose gold 59,11gr, 185 champagne diamonds 2.45ct., precious stones 2.89ct.
Inspiration
The soft colors of natural mother-of-pearl are combined with the brightness of a rose gold and tsavorites frog, creating a jewel of radiant elegance.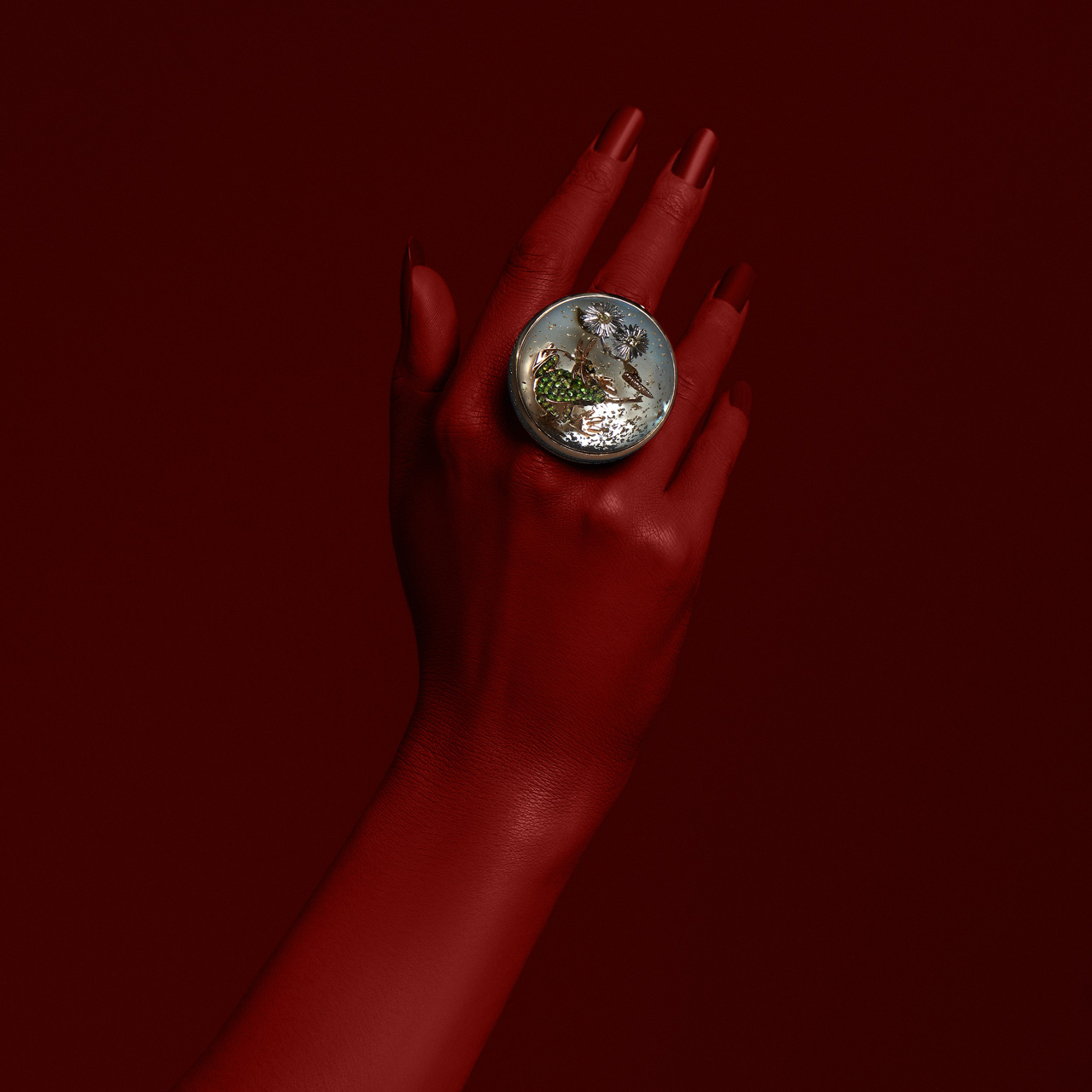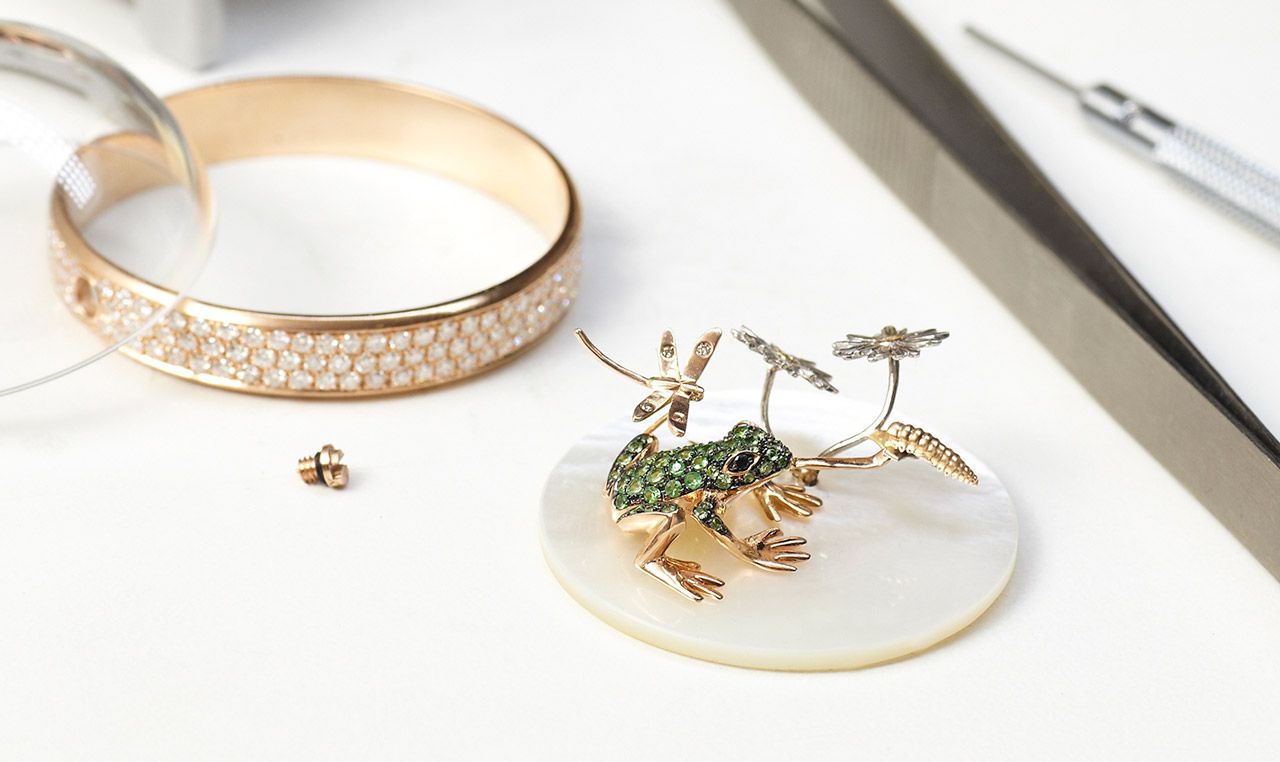 Chic & Shine Collection (Full Gold or Gold/Titanium)
Gold 18K, scenaries are made of gold and precious stones in full pavé. The base has a 33 mm diameter of natural flat cut stones in black & white: black volcanic stones, white mother of pearl or diamonds pavé. The bezel is always made of gold and full pavé setting. 15.97 g with 185 diamonds. 24k Gold Paillettes.
SUPERB LINE 36 MM
The line is characterized by a very distinct, vigorous and abundant design, reflected in a larger dimension. The rings consists of three main components: the ring, a bezel and the sapphire cabochon glass. The ring is made of 18K gold or vintage bronze. The bezel is made of 18K gold and is embellished with two different pavé settings of precious stones:
Gold Full Pavé gr.16.89 setting with 185 precious stone (about 2.91 ct)
Gold Medium Pavé gr.17.72 setting with 112 precious stone (about 1.35 ct)
The Swiss Made cabochon of Dreamboule is anti-reflective and scratchproof. Its sapphire glass is highly resistant and holds an exact image distortion index.
SUPERB LINE rings

CLASSIC LINE rings 

Tecnical Specs
Body Ring:
18K polished rose gold 35.52gr – Champagne diamonds 0.04ct. – 18K polished rose gold 3.38gr
Bezel:
18K polished rose gold 16.89gr – 185 champagne diamonds 2.30ct.
Base:
Flat cut diameter 33mm – White mother of pearl
Scenery:
Frog & Flowers
18K rose gold champagne diamonds 0.06 cts. – Black diamonds 0.01 cts., yellow diamonds 0.02 cts. – Tsavorites 0.46 cts.
Crystal: 
Sapphire glass scratchproof with anti-reflective treatment, diameter 36 mm
Paillettes:
24K gold flakes
Dream Solution
Total Weight:
18K gold 59,11gr, precious stones 2.89ct.